Click FILTER above to select the category of tea, herbs & spices that we have available. All our selection are prized for their medicinal effect, taste and quality of Kombucha Tea or Probiotic Soda they will produce.
We do not sell Japanese teas.Our teas are from India, Ceylon and China. Our Black and Green Teas are (USDA) Certified Organic. We choose ORGANIC when possible with our Medicinal Herbs. For example our Rooibos, Cayenne and Essiac.
For making Kombucha Tea of course you can use any tea. We encourage you to not only consider the taste, but also the health benefits, not simply is organic tea better or no, but the specific health benefits attributed to that particular tea.
Lipton, Red Rose etc, make good tea and good Kombucha Tea but do those workers get coffee breaks ?
The processing of the tea affects the taste and medicinal quality of the tea leaf. We have described specific attributes of our teas, herbs and spices as they affect the fermentation process and hopefully will help guide you to a a very enjoyable taste and a healthy elixir that you are seeking.
We are proud to offer our selection of truly premium teas at remarkable competitive prices. Each tea has been selected for its fine dining attributes, its remarkable medicinal qualities, as well as those deserving of a true kombucha enthusiast. Pure, high quality tea, you can see, feel and taste. Healthy and refreshing.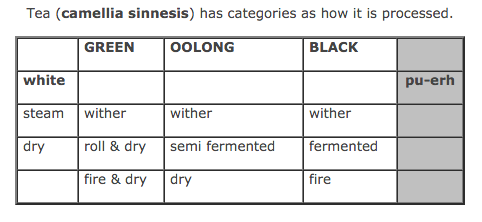 The chart below has a focus on the effect that different teas will have on a kombucha ferment. Tea is just one of many variables that affect ones probiotic ferment.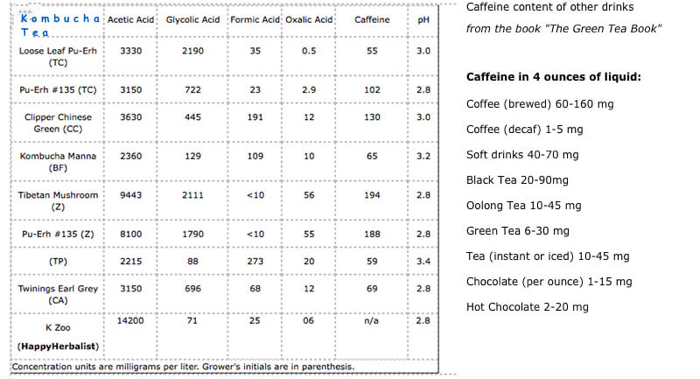 The chart belows shows that very little caffeine is used by the ferment. If you desire less caffeine (or caffeine free kombucha) then we recommend using herbs and spices like Rooibos or Yerba Mate as the principle along with 25% of real tea in your brew.