We have had independent testing of our kombucha mushrooms performed by San Rafael Chemical Services, Salt lake City, Utah. 84117. We chose SRC because Michael R. Roussin (kombucha-research.com) worked at that lab. At the time he ran 1,103 different chemical analysis of Kombucha samples from all over North America and even some from Europe. He tested over 800 "kombucha mushroom" because he wanted to separate the hype form the truth. His ebook was available at www.kombucha-research.com. NOTE since we moved our web site to its new Home we had to check our links. We were very dismaye dto discover Michael Roussin no longer works at San Rafael Chemical Services,which we knew for awhile, But also the lab has closed down. and now we have to do our analysis elsewhere. Nor does Michael Roussin maintain his valiant Kombucha Research web site, nor offer the very best kombucha research eBook., which is a real loss for the Kombucha World. we will miss him dearly. Since we did purchase a copy of his eBook and research we will continue to discuss his findings. and continue to credit his research.
Below are the results
The first one is the chemical analysis of our Kombucha Mushroom fermented with White (Silver Needle) Tea. The type of tea used does affect your outcome. AS does Time and Temperature and other variables we will talk about.
The significant factor is not only that silver needle tea makes an excellent tasting "kombucha champagne" but importantly this strain is extremely high in beneficial acids.
Where a typical kombucha ferment acetic acid and gluconic acid is in a nearly equal amount, our White Kombucha Strain produces two to three times the amount of gluconic acid typically found in kombucha. Gluconic acid is associated with detoxifying, especially of heavy metals. There is also a significantly higher ratio of gluconic acid to acetic acid thus producing a smoother more pleasant taste. Another important factor is the amount of keto-gluconic acid present in the tea. Here again, close to twice the typical amount. This is the acid that that has been mis identified as glucuronic acid and leading to speculation he cause or reason for the wonderful health of those that drink kombucha tea.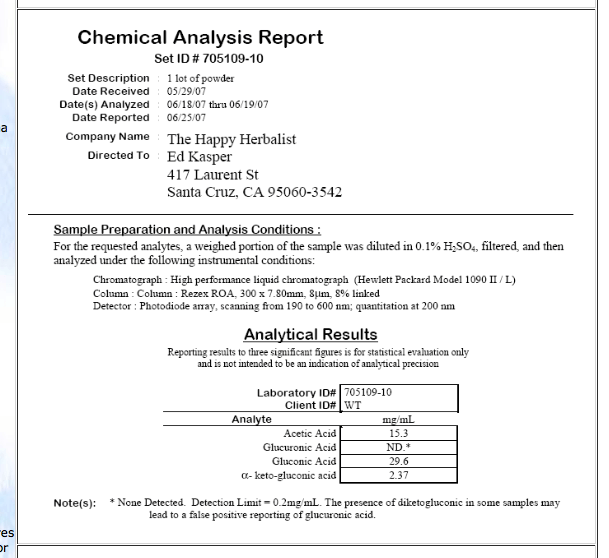 Sample of our typical kombucha mushroom. Below is the result of a ferment that was higher in acetic acid than gluconic acid. This ratios may be influenced by the type of tea, the type of sugar as well as the time (length) of ferment and the average temperature of the ferment. The Cornell University Kombucha Study found their average ferment to be 3.3% total acid, 0.7% acetic acid, 4.8% glucose, and 0.6% ethanol after a nine-day fermentation. There was no lactic acid. The average pH of the fermented samples tested was 2.5.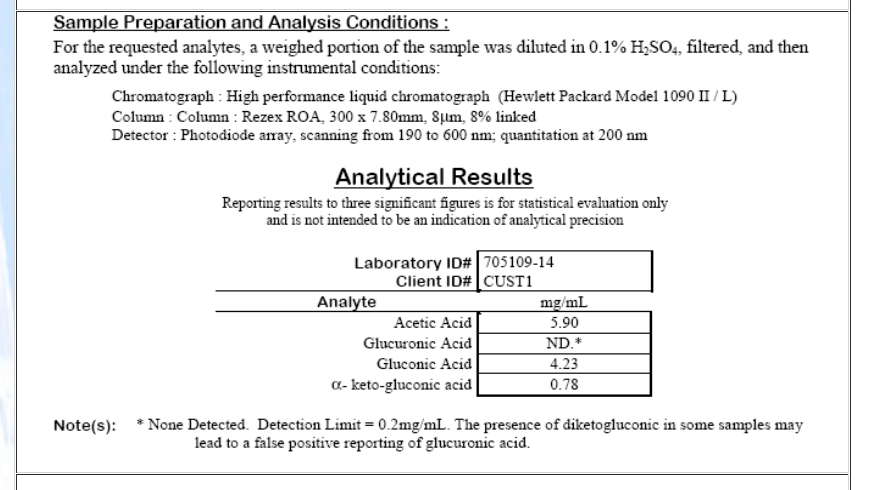 Below analytical report by Zypher May 2000. Showing various strains of other Kombucha growers along with the result from mixing strains.
Ed Kasper's [HappyHerbalist.com]
Acetic Acid - 5030 mg/l
Glycolic Acid - 1420 mg/l
Formic Acid - 111 mg/l
Oxalic Acid - 29 mg/l
Caffeine - 126 mg/l
pH - 2.9
---------------------------
Marge's Sour Ones
Acetic Acid - 6610 mg/l
Glycolic Acid - 930 mg/l
Formic Acid - 163 mg/l
Oxalic Acid - 29 mg/l
Caffeine - 257 mg/l
pH - 2.9
---------------------------
Marge's Sweet Ones
Acetic Acid - 5340 mg/l
Glycolic Acid - 486 mg/l
Formic Acid - 143 mg/l
Oxalic Acid - 30 mg/l
Caffeine - 159 mg/l
pH - 2.9
----------------------------

Dallas Dave's
Acetic Acid - 9330 mg/l
Glycolic Acid - 2720 mg/l
Formic Acid - 126 mg/l
Oxalic Acid - 28 mg/l
Caffeine - 146 mg/l
pH - 2.8
--------------------------
Baby X (Mix of 4 Kombuchas listed above)
Acetic Acid - 5330 mg/l
Glycolic Acid - 1020 mg/l
Formic Acid - 149 mg/l
Oxalic Acid - 21 mg/l
Caffeine - 142 mg/l
pH - 2.8
----------------------
Baby Y (Mix of 4 Kombuchas listed above)
Acetic Acid - 12500 mg/l
Glycolic Acid - 692 mg/l
Formic Acid - 110 mg/l
Oxalic Acid - 21 mg/l
Caffeine - 111 mg/l
pH - 2.7
Analysis of our own Kombucha Concentrate
As expected in a concentration the values are higher. For our concentrate acetic acid is over 30 times, glucronic acid over fifty times, and there is three times the glucuronic* acid that is expected in the typical kombucha mushroom tea. The difference with the regular kombucha tea is that the tea is a raw probiotic of live beneficial bacteria and yeasts that benefit the GI tract. The concentration contain dead or inactivated bacteria and yeasts, similar to capsules. The fresh fermented kombucha mushroom tea is a taste sensation (or should be). The concentration has less sugar and less alcohol. Our Charcoal filtering and Oak Aging removes unwanted elements and improves overall character. While preserving greater beneficial acids Bitter-sweet, though I would not say a pleasant taste - not unpleasant. May be mixed with fruit juices or mineral water. Add to soups, stews and pickling recipes.
Our Kombucha Concentrate 50X follows in the footsteps of the Original Kombucha German Patent 1927 for concentrating Kombucha for therapeutic use.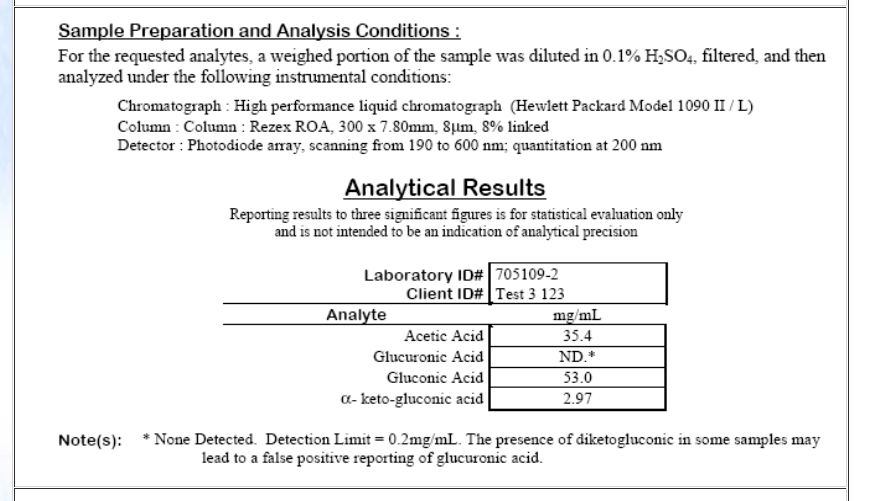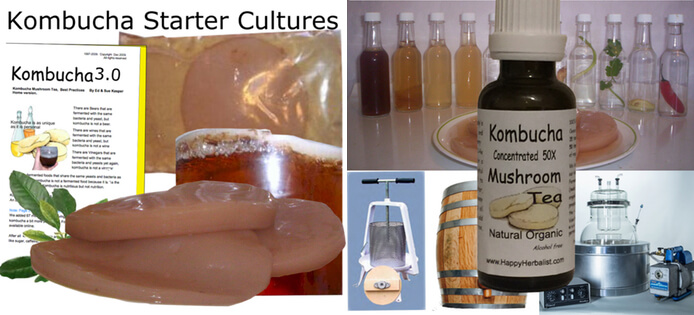 HappyHerbalist.com online since 1997. Kombucha Starter Cultures, Kombucha Prue Extract, Kombucha Mushroom Tea Concentrate,and Distilled Kombucha Homeopathic Preparation of Kombucha our Kombucha D1, and Kombucha Herbal Extracts.
Ed Kasper was licensed by the State of California in the prescription of Traditional Chinese Medicine and developed Kombucha medicinal elixirs during his successful California Clinical Acupuncture & Herbal practice. We will be Happy to discuss your Kombucha concerns anytime. please email eddy@HappyHerbalist.com or text 919-518-3336 (EST)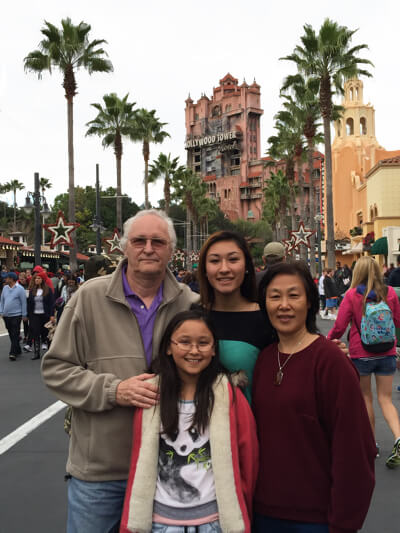 to your health and prosperity.2016