Instant semi-frozen Kombucha or Water Kefir Slurpee, Water Ice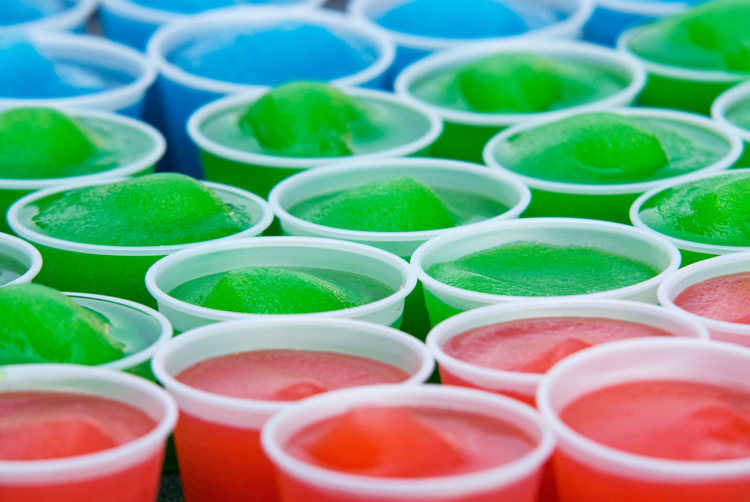 OK, it does take a few minutes - like 5 minutes.
Here's all that you need
1. Kombucha Tea, Ginger Beer, Jun, Water Kefir, or your favorite water flavored drink.
2. 2 large plastic Zip Lock bags
works best with one zip lock larger than the other. But the bags can be of the same size just know that one bag has to fit inside the other bag, leaving room for both bags to be filled.
3. Ice
4. Salt
Step One:
Fill one zip lock bag (smaller one) with your favorite Probiotic Soda. Seal and burp the bag to be sure it is sealed completed and most of the air is out. Shake the bag.
Step Two
Place the Probiotic Soda filled Zip Lock inside the larger Zip Lock.
Step Three
Fill the outer Zip Lock with ice, leaving enough room to seal the bag.
Step Four
Pour Salt over the ice. Seal the Zip Lock filled ice. Make sure all Zip Locks are completely sealed.
Step Five.
Put on the music ...
and Shake the bag for 3-5 minutes.
You can watch your Probiotic Slushee form.
Enjoy
Be careful of Brain Freeze. (don't drink it all down too fast)
Make'em ahead of time for parties and events, for the farmers market - help your neighbors cool off a wee bit :))
We offer Concentrated Kombucha Extract - all natural no preservative, no chemical. We use our own low pressure vacuum distillation, similar to the 1928 German Patent Kombuchal. 50 times the potency compared to the typical kombucha fermented tea. Kombucha 50X also we offer our pure crystal clear Distilled Kombucha at 10X.Add your own flavors; herbs, spices gruits made for Kombucha and Kefir We'll custom extract to your own specifications just text 919-518-3336.
Here is another method popular at Farmers markets and events.
This uses Kombucha Tea that is nearly frozen (in a plastic water bottle).Takes about 1 1/2 hour in my freezer. If is is completely frozen leave out until it is still super cold but not solid ice - you want the super chilled kombucha tea with no visible ice chunks. Show your friends the bottle of liquid Kombucha Tea.
Very slowly loosen the cap. If too fast then the Kombucha Tea will freeze in the bottle. And pour the Kombucha Tea into the serving container (the colder the container the better)
If the Kombucha Tea does not ice up right away then briskly stir. As the air hits the liquid causing the ice to form. Quite the show.
IMO, using a heavy fully flavored Kombucha Tea works best.
If you're using fresh fruits, herbs, spices etc recommend make these into a a light syrup first and use in your first or second ferment. Then bottle., in this case, using plastic water bottles. You can also use zip lock bags instead of plastic water bottles. I Cut a 1-2 inch corner off of the zip lock right before serving instead of trying to open the zip lock and having it open too much when pouring.
Photo and Recipe from WonderHow to
Lead photo Blue, Green Red Slushies from Time Magazine.
Need a Kombucha Starter Culture - no worries we guarantee your success.