You're making great Kombucha With the encouragement of friends and family and those high prices at the store, you're going commercial. What the heck, yours definitely taste the best and only cost you $0.75 a gallon to make.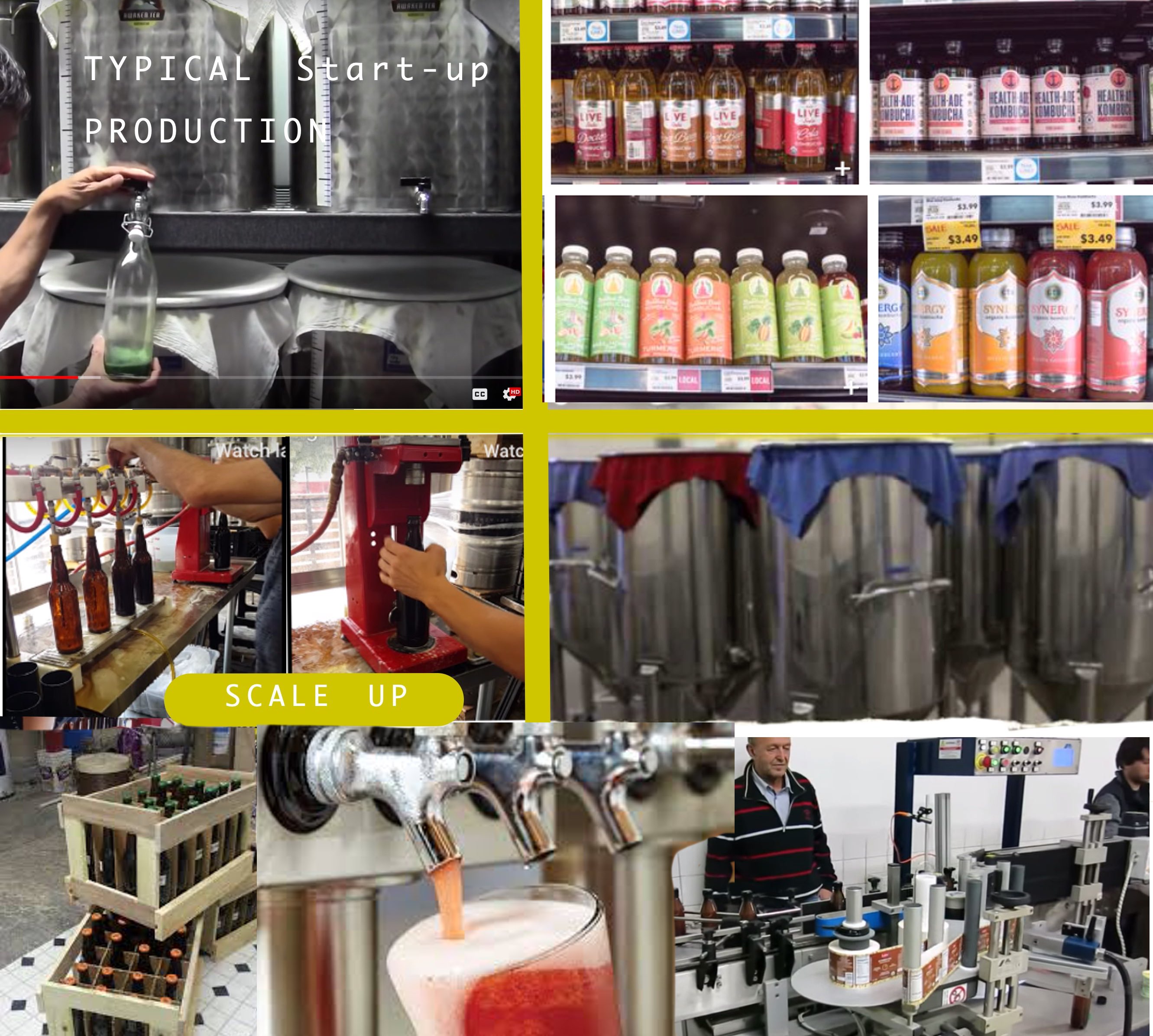 HappyHerbalist brewing Kombucha since 1997
Free one-hour Consultation
Micro-Brewery Consulting. Cost estimates, Start-ups to Problem Solving
HappyHerbalist@me.com cell / text 919-518-3336
First thing is to decide will you be Kombucha TEA or Kombucha BEER.?
The equipment is about the same, but the paperwork and fees are very different.
The zoning is also different, as is the distribution. Will talk more on the differences later.
Either way, the hardest part in the beginning is deciding how many bottles you will be selling? Bottles translate into cases, cases into barrels, barrels into fermenters. You probably can do 24 batches per year. The number of different kombucha's you offer can be decided later, but the total volume projected is the key.
Kombucha Nano Brewery
A Nano brewery is defined as brewing less than 3 BBL (barrels)
330 bottles of kombucha per barrel per ferment
$24.00 Cost of raw material per barrel of Kombucha ($0.07 per bottle)
A 1 BBL (31 gallon) fermenter doing 25 ferments per year for 775 gallons could produce 8,250 bottles of kombucha annually. (344 cases)
A 3 BBL (91 gallon fermenter) would produce 3 times or 24.750 bottles of kombucha annually. (1032 cases)
Average 12 ounce bottle of Kombucha Tea $2.49 - $3.99. Sales are increasing and predicted to grow substantially. However prices seem to be trending downward with larger packaging leading to lower profitability.
Kombucha Beer slightly higher. ~$5.00
Annual 3 BBL produces 75 barrels at a raw cost of $1,800
24.750 bottles of kombucha retail at $3.00 = $74,250 - $1,800 = $72,450
Distribution is the second key. Where will you be selling your Kombucha? Farmers market, vendor carts, roadside stands, events, fair, stores, restaurants, pubs, brewhouse. taproom. Will your Kombucha be in bottles, cans, kegs, barrels, or growlers. There are different costs associated with each.
Wholesaling, to stores the least profitable. 5% - 15%
1-3 cases a day / 7-21 per week.100% of production or just a share of total production.
Distribution: tack on 20-35%+.
Many states allow small brewers to self-distribute which can more than double your profitability. However distributors are often a needed connection to gain access to stores shelves and product placement. Plus they do pick up and deliver.
Store shelf space tacks on another 30%
$2.49 less 65% ($1.62) = $0.87 Gross profit less cost of bottle, labor (~$0.75)
$3.99 less 65% ($2.59) = $1.40 Gross profit less cost of bottle, labor (~$0.75)
Kegging to pubs, restaurants, ~ 50% profit
Personal kegging to events _ ~ 75 % profit
Taproom, your own pub is the greatest return ~ 90%
If you pour 24.798 glasses of kombucha @ $4.00 glass thats over $99,000 year (gross)
Thats less than 70 glass a day, but still someone has to do the pouring, and the fermenting, and the bottling, and the cleaning, and the mopping. Owning your own business is an adventure. 24 / 7 /365
note that these values are only an illustration. all percentages will vary greatly upon a great many more variables.
Equipment costs
1 - 3 BBL nano brewery will cost almost the same to get started with a really simply system costing a few thousand to a really decent system including pumps, cranes, hand forklift, semi-automatic bottling, capping and labeling (bottles or cans) less than $20,0000
Your Business Plan and funding comes from those 2 key questions. When you're ready give us a call. We are here to help. No charge for initial consultation.
don't forget to download our Free Kombucha Craft Brewing Guide..
text 919-518-3336